The first day of the second month of the year 2013, 1 February, comes with a dense fog and dip in temperature, disturbing the normal life of the national capital as well as other nearby places.
It is said in news that dense fog and sudden fall in temperature on Friday had affected the air, rail and road traffic in New Delhi.
The maximum and minimum temperature recorded in New Delhi today morning was 21.9 degree celsius and 7.8 degree Celsius, respectively.
Further, news has said that fog has affected the operations of around 50 flights at the Indira Gandhi International Airport due to low visibility.
Many of the flights were delayed for hours. In the same way, train traffic was also hit due to dense fog. Which created problems for passengers.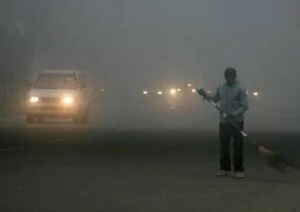 The fog is so dense that the runway visibility dropped to below 50 metres on both the runways at the IGI.
According to the Meteorological department, suspended dust particle and moisture in the air resulted in the formation of fog.