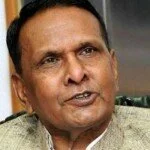 According to latest news, the Union minister Beni Prasad Verma once again gave an unlikely statement on Thursday as he said that Parliament attack convict Afzal Guru should not be hanged and his sentence should be commuted to life imprisonment.
With his this statement, Mr. Verma embarrassed his party on the anniversary of Parliament attack by saying that BJP was trying to communalize the issue.
However, Beni Prasad's this statement came at a time when Congress-led UPA government is about to announce the final sentence on Afzal Guru, with home minister Sushil Kumar Shinde saying the matter would be looked into after the winter session.
In the meantime, the opposition parties slammed Beni Prasad Verma, but he swiftly retracted his statement
On the other hand, wife of Delhi Police Assistant Sub-Inspector Nanak Chand who lost his life, Gangadevi said, "Time seems to have stood still for us. Over a decade after the Parliament attack our families are still coming to terms with the void that it has left behind in our lives."
She added, "Today [Thursday] is the 11 anniversary of the attack, but we are yet to reconcile with what has happened. My husband was posthumously conferred a bravery award in recognition of his sacrifice, but we have returned the medal demanding death by hanging for Afzal Guru. Probably his death will help me regain my lost faith in justice and democracy. Right now the Indian government seems to be protecting Afzal. When we know that he is guilty and that he is responsible for such a heinous crime, what prevents us from allowing him to be hanged."