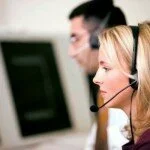 Two telcos, Bharti Airtel and Reliance Communications are trying to be spare over the fall out of toll-free calls routing, both are disagree, accusing each other with violation of an agreement signed in 2007.
The move came after recent Airtel's action to block toll-free calls originated on Airtel's network from RCom enterprise, RCom went the Telecom Disputes Settlement Appellate Tribunal (TDSAT) against Airtel and raised a spate, report said.
In 2007, both parties signed a contract on basis of that RCom clients used dial toll-free service starting with "1800″ and "1860″ and for that RCom pays 52 paise per call to Airtel, bearing free call cost.
Actual fact is that, source said; Airtel's reason to terminate toll free calls resulted after RCom started this fallout by terminating toll-free calls starting to outside India, allegedly violating deed. Airtel argued that the international toll-free numbers should start with '00800'in such scenario RCom is supposed to give Rs 1.10 per call.
Reacting over this, RCom said Airtel which is only access provider has created an artificial distinction between calls terminating in as well outside of India, without having rights.
Meanwhile, the issue is now under the DoT that stated, "1800″ and "1860″ toll free numbers are not for international, just only national calls and will, reportedly said, to file an affidavit regarding this issue in the tribunal.