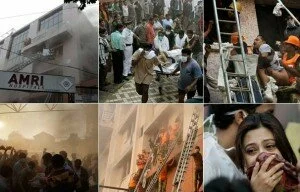 The Kolkata Police compensated Rs 3 lakh each to the families of those 29 persons who dead in the AMRI hospital fire.
The city police commissioner RK Pachnanda said in a statement on Monday, Families of the other dead in the December 9 fire disaster would receive an identical amount as compensation in phases after verification of documents.
But, According to a source report, many families who receive the cheques from the police commissioner at the city police headquarters at Lalbazar in the central part of the city broke down.
On Monday a meeting was held between Chief Minister Mamata Banerjee and the police department officials to discuss the establishment of six new fire stations at Burrabazar, Garia, Parama Island and Tiljala. These all are the most fire-prone commercial zones.
Talking to Media, Pachnanda said, "The chief minister has asked the police to be 'more pro-active' in dealing with the situation."
Decision is to be taken that the Calcutta Municipal Corporation teams and the fire service department will visit these fire-prone commercial areas at regular intervals to check if traders are complying with fire safety norms.