Kashmir Valley's only all-girls rock band – Praagaash once again targeted by Muslim clerics, issuing a fatwa against all to condemn women performance in public.

The Grand Mufti of Kashmir issued a fatwa against three Kashmiri girls for being part of a rock band, called them to imbibe moral values as music is bad for the society.
It also advised women to wear a veil at all times, describing western profession for girls such as dance a bad activity, not according to Islam, as per sources reports.
Earlier all girls band had targeted by online threats and hate messages after winning best performance award at the annual 'Battle of the Bands' competition in December 2012, reports said.
The band, who stepped into the male-dominated field of music, claimed that several threats to quit had been received by them, also on the target of the separatists.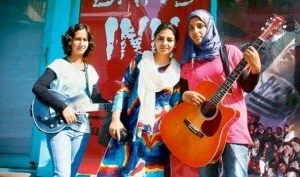 Even their parents also pressured them to stop music due to having threat from outside, reports further added.
Jammu and Kashmir Chief Minister Omar Abdullah came in support of the rock band, ordering a probe and tweeted, "Given the importance people attach to the fatwas of the Grand Mufti the less said the better."