The Cabinet has finally passed the amended Lokpal Bill today which is farce for social activist Anna Hazare, announcing to launch new agitation for the Jan Lokpal Bill.
Calling amended Lokpal out of demands, Mr. Hazare said, "The proposed new draft of the Lokpal Bill is useless", reports said.
Asking questions from the UPA Government's commitment to pass the bill that be able to control corruption in the country, Anna said that he has no trust on Prime Minister Manmohan Singh and Congress President Sonia Gandhi.
Anna wrote a letter to Sonia seeking clarification whether the proposed bill will be a stringent one, reports said, adding there was no reply to these clarifications.
"The Centre is trying to befool the people by going ahead with it," he further added.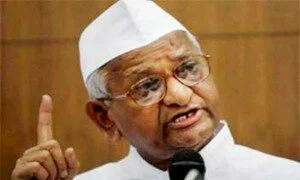 Meanwhile, UPA seems to come under big threat of Anna as Anna team had already launched    'Janatantra Morcha' in Patna on Wednesday for system transformation and another for the Jan Lokpal Bill would intensify in coming months.
"I will visit people in towns and villages across the country in coming months to awaken their conscience," Mr. Hazare told reporters.
As per new draft of Lokpal amendment CBI and CVC will be under the supervision of the Lokpal, while the appointment of Lokayuktas to the states and public servants will have right to explain before an inquiry by Lokpal, given an opportunity to be heard at the stage of the preliminary inquiry.