Following a deadlock over release of Vishwaroopam, the actor-filmmaker Kamal Haasan on Thursday has thanked his fans and film industry for the giving their huge support to him.
"I am overwhelmed and touched by the support of the fans," Mr. Kamal told reporters.
Mr. Haasan has also said that he would not move the Supreme Court to challenge Madras High courts decision and thankful to Tamil Nadu chief minister J. Jayalalithaa's offer to break the tussle over the film.
As per reports, much disappointed by the Tamil government to stay ban on his film 'Vishwaroopam', the actor said that he was not sorry for his word to leave India.
He cleared that Vishwaroopam political row had hurt him so much that in future if he face such type of controversy again, he would seriously consider leaving India.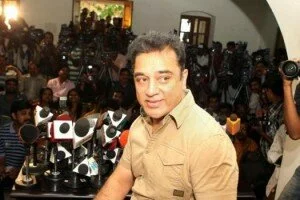 Describing it as the insult of the nation, the actor said a meeting was held with Muslim leaders to arrive at a consensus as he agreed to delete objectionable content from the film, but Madras High Court had never lift ban.
Haasan directed 'Vishwaroopam' premiere in Hindi version would be out in Mumbai tomorrow, expecting well response from public.
The row not ends at this, as earlier reports that after a ban in Tamil Nadu, Uttar Pradesh government might hit prevention of Haasan's 'Vishwaroopam' from screening.
Talking to media, UP leading Akhilesh Yadav led SP party said that the controversial spy-thriller Vishwaroopam would not be release on theatre if it is found to be objectionable or hurts the sentiments of Muslims.
The Madras High Court on Wednesday stayed the release of the film following the Tamil government's challenge against a single judge verdict giving green signal to be released.
Beside film celebrities, Censor Board chief Leela Samson and Home Minister Sushilkumar Shinde too favoured release of Vishwaroopam as individual has freedom of expression.