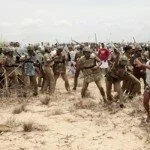 A Russian backed Kudankulam Nuclear Power Project in Tamil Nadu which was permitted by Madras High Court to run its operations, put under the controversial row when more than hundreds of anti-nuclear activists came on plant site in Tuticorin.
The Mysore Express and the national highways blocked by anti-nuclear activists, opposing the Kudankulam Nuclear project, while a fisherman killed in protest during Police firing.
The protest, against the loading of uranium reactors at Kudankulam Nuclear Power Plant, started from Idinthakarai and spread across the neighbouring Tuticorin district, turned the area 500 m away from site into battlefield after protesters refused to allow police order to leave the site within 10 minutes.
During Police open fire, a huge crowd marched against police station and a clash between police and protesters started, resulting lathi charge and tear gas shells to lob the protesters, being turned a peaceful protest into violent.
Report is that one of two 1,000-megawatt nuclear reactors has been loaded in Kudankulam.
Talking to media, Union home minister Sushil Kumar Shinde said, "Foreign NGOs are supporting this movement. We are aware about the NGOs which are behind it," refusing to mention name of country.
Over all, the dead fisherman identified as Anthony Raj, villager of Manapad attacked by police firing when he attempted to cover a police check post.
Being appreciated police action, State's Chief Minister J Jayalalithaa requested villagers to calm and maintain peace in the state, not downed with protesters.