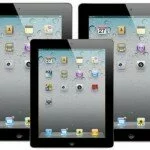 As per latest news report, Apple has in plans to introduce its latest thinner iPad by end of this year in wake to maintain its position in the market, facing toughest challenge from its major competitors Microsoft and Google.
As per information provided from source familiar with this, debut of new Apple's iPad is likely to give direct challenge to the Google's last week launched Nexus 7 tablet.
Apple will launched its smaller iPad that will have a screen of between 7 and 8 inches, less as compare to current devices comes with a 9.7-inch (24.6-centimetre) screen.
Source said, Apple's new model would not provide same high-definition Retina screen feature that came in iPad 3 released in March. But due to having smaller screen and cheap price as Google's tablet, the company could earn similar profit as it got from past year on its devices.
61% market gainer will unveil its latest iPad at costs of $200 dollars closer to Google's Nexus 7 and Amazon's Kindle Fire, major competitors, having cost $199.
"It would be the competitors' worst nightmare. The ball is in Apple's court," An analyst told reporters.
In tablet market, Apple has three major rivals whom down grading is its target. Except Google and Amazon's tablet, Microsoft is the third one that has stood in the competition.
Earlier, Microsoft announced its Surface tablet, a rival of iPad that support same screen size as the current iPad, but a highly powered tablet running on Windows 8.