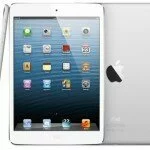 Finally Apple CEO, Tim Cook has introduced in front of world media, a smaller version of the iPad , iPad Mini offering customers best option to hands on low-cost tablets than Microsoft Corp., Amazon.com and Google.
As per media information, Apple landed its fourth generation iPad mini, a thinner and slimmer having a 7.9-inch screen with a much faster processor and Wi-Fi connection which is twice as fast as previous model.
All eyes were on Apple's iPad mini price whether is set more than its rivals or low. And now it is confirmed that Apple device is priced $329 for standard, $499 with Wi-Fi, $629 with cellular service, more than Google's Nexus 7 and Amazon's Kindle Fire HD tablets.
Having not as per users' expected low price tag, Aple shares fell 3.3 percent to $613.36 at the close in New York after launch. But company defended customers will seeking quality more not price.
"The iPad is far and away the most successful product in its category. The most affordable product we've made so far was $399 and people were choosing that over those devices. And now you can get a device that's even more affordable at $329 in this great new form, and I think a lot of customers are going to be very excited about that," Apple marketing wizard Phil Schiller said, as per source.
Improving with lightning connector, the new iPad Mini features with upgraded slot and a long 10 hours back up battery, will starts for preorder at $329 on Oct. 26, and the Wi-Fi version will start on Nov. 2.
Beside, iPad mini, Apple also introduced a series of its products, a new redesigned thinner iMac desktop, a powerful Mac mini and a 13-inch Retina MacBook Pro, boosting market worldwide with target of 5 million to 7 million sales unit of the smaller iPads by the end of the year.