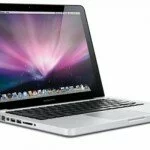 Good news for Apple lovers, the company has introduced its successor of a new 13-inch MacBook Pro laptop with "Retina" display, and also starts its shipping from today onwards.
More than Four times resolution of the previous model, Apple's new MacBook Pro is launched with iPad mini totally same features as per rumours , LED-backlit IPS Panel with 2560 x 1600 native resolution, Intel HD Graphics 4000, Thunderbolt digital video with a pair of ports, MagSafe 2 power port and 720p Front HD camera, offering amazing qualitative images.
Powered by a 2.5GHz dual-core Intel Core i5 processor with 3MB cache memory, MacBook Pro is the most deliberate and finishing holding , a thin and high portable laptop.
The most stylish and capable 13 inch MacBookPro comes with a 8GB of 1600MHz DDR3L onboard memory, 128GB SSD Storage, full-size HDMI socket and recent launch of iOS-ified Mountain Lion.
Featuring an optical drive and a traditional hard drive 20 percent thinner and lighter new MacBook Pro is available at Rs. 114,900 via Apple Authorized Resellers, starting from today.