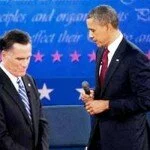 The 90-minute final debate in Boca Raton, Florida before elections was stand with foreign policy and China's Trade Practices, both US presidential candidates repeatedly offered their support to Israel if it was attacked by Iran which in way to acquires nuclear weapons.
"If Israel is attacked, America will stand with Israel," Barack Obama said, highlighting more on relationship between US and Israel , but pointed to terrorist biggest threats that lead to Iran's on going nuclear power attempt.
Iran has "to abide by their treaty with Israel. That is a red line for us, because not only is Israel's security at stake, but our security is at stake if that unravels," Obama added.
Mitt Romney has put more light on misunderstanding between the US and Israel, criticizing the Obama's omission to visit to Israel in his first term that was noticed by Arab, and that "daylight" between the two countries was noticed by Iran, as per report.
"When I went to Israel as a candidate, I didn't take donors. I didn't attend fundraisers," Obama clarified, also questioning over Romney's earlier high fund gaining visit and added, "I went to Yad Vashem, the Holocaust museum there, to remind myself the nature of evil and why our bond with Israel will be unbreakable."
Losing any moment to down Obama, Romney said that the power gained by Tehran is just within time period of four years under Obama presidential term. "If Israel is attacked, we have their back, not just diplomatically, not just culturally, but militarily," he added.
Over the China's policies, both spoke more on economic policies over US China relationship and security threats due to maritime territorial disputes, but no one clarify China's practices against US.
Both were more focusing on domestic issues, such as Libya US Consulate attacks, foreign policies, Osama Bin Laden, Security Challenges and Economic Policies. Romney handed his grip with Obama's failure in handling of the Middle East, while Obama defended himself to kill mastermind of the 2001 terrorist attacks, Osama bin Laden.
Finally after last debate with verbal attack, now both candidates will back on their campaign across a number of states to put last attempt to catch up remaining voters before the November 6 election. It has been reported that Obama with Vice President Joe Biden will campaigning in Florida before to Ohio, while Romney will hit a rally to Nevada and Colorado with Congressman Paul Ryan, a candidate of Vice Presidential Election.