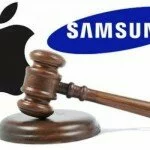 Looking forward to take advantage on a major legal win over its rival Samsung Electronics Ltd, Apple Inc has now asked the central court in a separate case to look after a matter of four more Samsung products, also Samsung Galaxy S III.
In February 2012, Apple said in its case that around 17 Samsung products copies breach its patents.
Meanwhile, in an application filled by Apple Inc on Friday, it said that four more Samsung products of allegedly breaching products that were launched by Samsung in August 2011 and continuing through this month.
Apple has won the case against Samsung last Friday, when court found that Samsung copied important features of Apple's iPhone and iPad and ordered Samsung to pay $1.05 billion in damages.
In the meantime, no official was present from Samsung for the declaration on this.
The case is U.S. District Court, Northern District of California, Apple Inc v. Samsung Electronics Ltd, et al 12-00630.