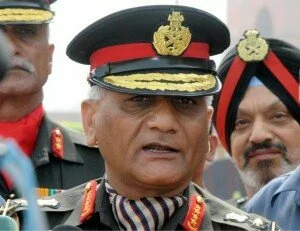 Taking a straight forward step by the Army Chief General VK Singh, now today govt. has come up in the Supreme Court to clarifying its attempt on VK Singh's false Date of Birth.
As per govt. the DOB of general is 10 May, 1950 and on basis of this he should retire on 31st of May.
But General claimed that his DOB is 10 May, 1951 as per his legal documents.
Now claim put on the branches of Army that maintained the whole record, interestingly there is much confusion between two branches because one show General's DOB as 1950 and other as 1951.
All such has put unconstitutional tag on Army and for removing this with taking a clear stand, all related candidates are legally addressed in the Court today on basis of petition filled by Chief VK Singh.
As per source report, General has got 3 promotions on basis of his DOB 1950 that has accepted by him and he also asked govt. in writ petition why it wanted to change his DOB.
Beside his admission form that was filled by General's teacher for posting in the National Defence Academy on basis of 1950, he has received his gallantry medal from the President as per May 1951 as his year of birth.
However having much confusion over the matter would also blow the fire between the military and government controversy that are going on from last few years.
Meanwhile Army Chief's unpredicted action against govt. for his future will also force the other senior most chief.