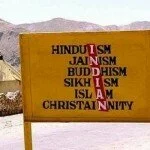 In a shocking incident of breakdown of discipline in the Indian Army, Army Officers and Army Jawans of an artillery regiment deployed in the Nyoma sector of eastern Ladakh aggressively fights with each other on Thursday evening.
Further, it is said in reports that the brawl resulted with the Commanding Officer (CO) of the 226 Field Regiment deployed in Durbuk, Colonel Prasad Kadam, a Major, S K Sharma, and two jawans being admitted to the military hospital at Leh, the hospital authority has said they were hit with multiple injuries.
Meanwhile, the complete artillery unit with more than 550 soldiers, which was deployed at the high-altitude Mahe range in Nyoma to practise firing of their 105mm guns, was immediately 'disarmed' by additional forces rushed to the spot.
The Officers jawans clash incident has resulted wrong message to the 1.13 million-strong Army, the Indian Army always was proud of its disciplined ethos and esprit de corps, and the entire defence establishment in South Block.
However, the Karu-based 3 Division commander Major General A L Chavan soon went at the incident location, Army chief General V K Singh had explained defence minister A K Antony on Friday morning after talking to Northern Army commander Lt-Gen K T Parnaik.
The artillery regiment will "eventually be disbanded", just like a few Sikh regiments were in the disarmed after the Operation Bluestar in the mid-1980s, after the court of inquiry ordered into the incident establishes the chain of events and identifies the guilty.
While talking to media, an official from Indian Army said, "It's an isolated act of indiscipline. The situation is under control…the accused will face court martial."