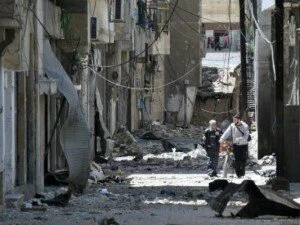 It seems that Syria's violence would never seeking a way to cease-firing as once again a suicide bombing on Friday in Damascus, killed at least nine people included civilians and law enforcement officers and injuring almost 30.
Source says, in the pro-opposition Midan neighborhood, a suicide bomber deployed an explosives belt and attacked near the Zein Abidin mosque where on Friday huge numbers of people came to prayers.
The Health Minister Nader al-Halqi told that the remains of two other people also were found, one believed to be the bomber. Three smaller explosions elsewhere in the capital killed one person and seven police were among the dead.
Marked the break of the United Nations-backed cease-fire announcement this month, this bloodshed has increased the intensity of President Bashar Assad's government to continue its crackdown on the opposition as The rebel fighters have reportedly taken up arms again.
With slogan "Toward a modern society that is more developed and sensible", more than thousand people across Syria marched into streets protesting against Assad's govt. to fall down and left out from Syria.
Syrian forces opened fire on the protesters routinely that they has been doing since the uprising against the Assad regime began 13 months ago, troops has killed eleven people including a 10-year-old boy, the Human Rights activists said.
Seeing the bloodshed in Syria, the UN general secretary Ban Ki-moon on Friday said President Bashar al-Assad's continued crackdown on protests had reached an "intolerable stage". "The government of Syria must live up to its promises to the world," he added.
Therefore his appointment with Maj. Gen. Robert Mood of Norway is headed for monitoring mission in Syria to speed up the deployment of up to 300 monitors.
However, 15 are there now and next 100 to be deployed within a month, according to announcement.
Still there is no report about the source behind this bombing, though there is confusion on tracing the explosion attacker. The ministry linked it with "terrorist groups" activity -the term it uses to describe opposition forces that it says are carrying out a foreign conspiracy, while opposition activists blamed the Syrian troops for firing on protesters.
Demonstrators alleged that on Friday, govt.'s troops are deployed in every station of mosque across Midan, pointing the security on the neighborhood. "So how does an explosion like this happen?" they said on clearing their allegations.