Balwant Singh Rajoana, whose mercy plea is still pending with President, does not want anyone to defend him, according to latest reports.
Rajoana is one of the assassins of former Punjab Chief Minister Beant Singh, who execution was stayed from March 31, 2012 after a petition filed by Punjab CM Prakash Singh Badal and SGPC.
The recent statement of Rajoana has come after Shiromani Akali Dal (Amritsar) president and former IPS officer Simranjit Singh Mann seeks to stay on Rajoana's hanging.
"I have no need of Mann or need for sympathy of any other Congress agent?," Rajoana said in a letter, source said.
The letter addressed to the Sikh community has purported written by him and released by his sister Kamaldeep Kaur, it added.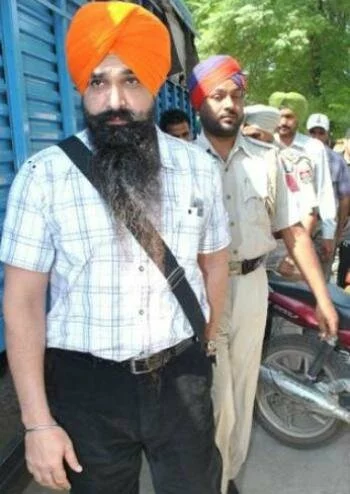 Rajoana clearly stated that Mann should not worry about him, his death as he already donated his body to a hospital.
Mr. Mann feared that Rajoana's hanging may be like the top secret execution of Ajmal Kasab and Afzal Guru, the death convicts of Mumbai terror attacks and 2001 Parliament attack. He also moved the Punjab and Haryana High Court for staying his execution.
In 1995, Beant was killed by a human bomb, Dilawar Singh, at the high security Punjab civil secretariat. While Jagtar Singh Hawara was the mastermind of the assassination, Rajoana was the second human bomb to be used in case the first one failed and after then he captured in 2006 and was sentenced to death.