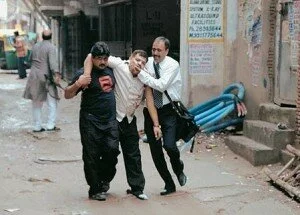 Demanding a judicial probe into Batla House encounter 2008, activists of the Ulema Council burnt the effigy of Congress general secretary Rahul Gandhi in Azamgarh.
At the time of election this Batla House encounter incident returned to be a central stage of political discourse.
When police stormed a flat in Delhi's Batla House on the basis of information that terrorists belonging to the Indian Mujahideen who had set off blasts in Delhi, were hiding there and two men from Azamgarh were killed in encounter as seemed to be terrorist.
But the two were innocent and the encounter was fake, this claimed by the section of the residents of Azamgarh.
Although the prime minister and home minister believed the encounter was true, the Congress general secretary Digvijaya Singh repeated that the encounter was fake, he added, "The prime minister and home minister were of the view that the encounter was true. That's why I did not press it further."
In support of Digvijay, Ulema Council president Aamir Rashadi said , "We had already warned that if Rahul comes to Azamgarh without an inquiry into Batla House shootout, he would not be allowed to enter," while Rahul Gandhi had stayed overnight at the Shibli National College guest house.
Before leaving for his two scheduled public rallies, Gandhi met with female students of the college.
Being a raw issue in Azamgarh where several Muslim youths have been interrogated and detained by the police subsequent to the incident, the Shibli College student union leader Mirza Shan Alam Baig met Gandhi at the guest house and demanding a judicial probe into the Batla House incident.
Asking about the encounter report to Gandhi, Alam Baig said, "The medical reports show it was a fake encounter. The Congress is ruling both at the Centre and in Delhi. Why are they afraid of a judicial enquiry? We are not demanding that a Maulana should enquire. When you can spend crores on Arushi murder case and Bhanwari Devi murder case, why is Batla House being ignored?"
In fact Manish Tewari, Congress Spokesperson failed to respond on Singh's comments and defined that the party has already expressed its views on the issue repeatedly and has nothing more to say on it. As like in past, once again Congress has too disowned Singh's remarks on the Batla House encounter.