After Afzal Guru's hanging, now Punjab Congress is focusing on other political death-row clemency case- Balwant Singh Rajoana, facing death sentence for assassinating former Punjab CM Beant Singh.
Punjab ruling Akali Dal party which had succeeded to pull out Rajoana from jaws of death has held mock over Rajoana acid test.
The fresh much sensitive case of Afzal Guru's execution is now the centric part and major base with that Congress asked BJP allies Akali to make their stand about Balwant Singh Rajoana
Sources said, in a counter attack over BJP's outcry against the Congress for delaying Guru's execution, Punjab Congress general secretary Arvind Khanna asked why "the BJP is now quiet about Rajoana?", adding that the Jaish-e-Mohammad terrorist's hanging was delayed due to a legal process.
However, over Congress's call to clarify stand on Rajoana, Shiromani Akali Dal has not still make any statement in response over it.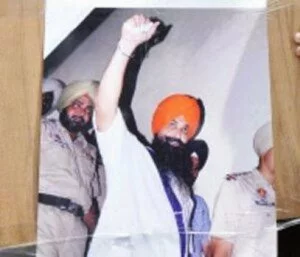 In 2007 the court sentenced death penalty to Rajoana for assassinating Beant Singh who wiped out terrorism from Punjab following bloody riots after ordering mass level atrocities against the civilian Sikh population of Punjab.
Rajona the terrorist of the Babbar Khalsa International group was the second human bomb to be used for the assassination after first one failed by Dilawar Singh, in 1995. Along with Rajoana, other terrorists were also suspected- one was the Jagtar Singh Hawara, mastermind of assassination.
In March 2012, as per Chandigarh court's order, Rajoana was to be executed on March 31, 2012 in the Patiala Jail, but just ahead of two days his clemency had cancelled due to amid protest led to Shiromani Gurdwara Prabandhak Committee as well as Akalis.
Then President Pratibha Patil had stayed his execution following clemency appeals by Punjab CM Prakash Singh Badal and his son the President of SAD Sukhbir Badal.
Since then, Rajoana produced in a Patiala-Rajpura court on earlier January 21, 2013 by the Patiala police following FIR under Explosive Act case and the court awarded him ten years rigorous imprisonment (RI).
Now, the next hearing fro another case registered against him under the Arms Act has been fixed on February 16 by the court.