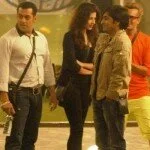 The Bollywood actor and host of the reality TV Show Bigg Boss 6 house, Salman Khan enters into the house for the first time this season.
Before the actor entered into the house, Bigg Boss announced statue and all the contestants were freezes. Salman entered the house and started mocking the housemates. Everyone in the house managed to stand still, but Sana Khan got too excited and hugged Dabangg Salman Khan.
Salman had spent time with all the housemates and even talked with Aashka that Rohit was too busy and he was not able to give any recording for her, but he [Salman] made time and came to see them all.
Later, Salman made all the girls in the house to dance on 'Fevicol Se' song from his film 'Dabangg 2. Salman Khan told Rajeev Paul that he has tainted Imam's positive image by constantly attacking him for no reason.
Salman got audio recording for Sana Khan, Urvashi and Aaskha by their mothers, but unfortunately, Aaskha was unable to recognize her mother's voice.
After Salman left the house, Aashka's mother came to see her.