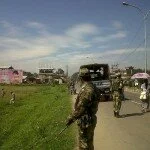 The breaking news of the hour reveals that a powerful bomb blast was exploded in an Army Office in Manipur's capital Imphal on Tuesday morning.
Talking to media, officials said that the bomb was so powerful that the sound of the blast could be heard from 3 kms.
Meanwhile, it is said that the army has gathered around the complex and search operation is on in the nearby locations.
Talking to media, a source said, "The bomb went off in the heavy security M-sector complex, adjoining Manipur Raj Bhavan and prestigious Johnstone Higher Secondary School."