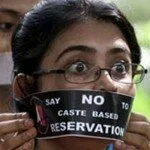 SC/STs now very soon get quota in job promotions as the union cabinet has approved the controversial proposal, giving higher priority for promotions to higher posts in government departments.
The constitution amendment bill would bring changes in constitution and is likely to table in this Parliament session to once again examine all the pros and corns before implementation, approving by members' voting.
The amendment is the outcome of BSP supremo Mayawati who has raised strongly demand for promotions quota in Parliament which was canceled by Supreme Court in April, but appreciated by all political parties on 21 August when Prime Minister Manmohan Singh held an all-party meeting.
The SP supremo Mulayam Singh Yadav who has opposed this proposal and also rasied opposition in parliament, does not want to go with any one proposal which will not link to benefiting reservation to OBCs.
Mayawati, being welcomed the govt. decision, appealed all parties' members to allow debut of Bill in Parliament, giving their support in functioning, even just for one hour.
Moreover, the changes will also be made in articles 341 and 342 of the constitution as the amendment bill is likely to be a legally challenge.