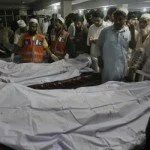 Breaking News, a suicide bomber attacked in Pakistan's city of Peshawar, the capital of Khyber-Pakhtunkhwa province with 240 pounds explosives-laden car, killing five people, including two Americans on Monday morning.
The suicide bomber has targeted the United Nations High Commissioner for Refugees agency's building at Aabdara Road in University Town, Peshawar, hit his vehicle into it and blasted , where several UN organization's offices have been located , as per police report.
However, no immediate response has come from any terrorist group to carry responsibility for this attack, but expected that Taliban may be behind this as hitting several attacks on US forces across Pakistan.
Over the toll, it has been said that 19 injured, including several foreigners and the blast was so much explosive that left a big crater among the busy street, damaged nearby four houses along with a Jeep.
Talking with media, Regional Information Minister Mian Iftikhar Hussain said that killed two Americans, worked in the U.S. consulate, had been moving across the city with security guards.
No comment has been revealed by U.S. group in Peshawar, but US embassy in Islamabad denied reports of death of two Americans in a suicide car bomb attack in Peshawar.