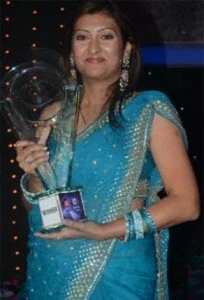 Beating her opponent Mahek Chahal , the most Popular television star KumKum, Juhi Parmar won winner title in 'Bigg Boss season-5' a big controversial reality show with winning amount of 1 crore beside a trophy .
Juhi Parmar was one who reached the grand finale along with four other contestants Akashdeep Saigal, Siddharth Bhardwaj, Amar Upadhyay, Juhi and Mahek and finally won after a long journey of the fifth season of 'Bigg Boss'.
Although Salman and Sanjay, the hosts called up one by one name and finally they announced Juhi as the winner. [Salman and Sanjay] too grooved in two popular songs, Aila Re Aila Re' and Dhinka Chika'.
After Shweta Tiwari, Juhi is the second female contestant to win 'Bigg Boss'. According to her, it is her second inning as like her 'weighty' issues had kept her away from small screen.
Interviewing Media, Juhi told reporter, "It is like a second innings for me….I wanted to start work but only after reducing weight…getting in proper shape. I was away from work for a year or so. My weight was a big hindrance in my career. Read more