It was quite a tough job performed by the Indian bowler to get rid of the last pair of the Australia cricket team, as Moises Hendriques (81 not out) and Nathan Lyon (11) put together 66 runs partnership.
India had to chase a target of 50runs, but lost both the opener M Vijay on 6 and V Sehwag on 19 individual runs.
Indian captain MS Dhoni was selected as the Man-of-the-Match for his superb 224 runs knock. He was well supported by R Ashwin, who took 12 in India-Australia 1st Test Match , and Virat Kohli, who made 107 runs in the first innings.
India registered a comfortable 8-wicket win over Australia in the first test played at MA Chidambaram Stadium, Chepauk, Chennai. India now leads the four match series with 1-0 and will play their second match at Hyderabad.
The presentation after match is as follow: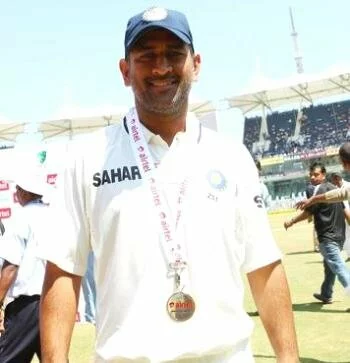 Australian captain Michael Clarke, "Full credit has to go to India. They played outstandingly, especially Dhoni. That innings changed the game completely. And Ashin's bowling."
He said, "Moises' debut is a positive, but we have got to turn things around. Work hard in the nets and get ready for the next Test match. The pitch looked a lot worse than it played. second innings, it played tougher, but that's what you expect in the subcontinent. No excuses, we got outplayed."
Indian captain and Man-of-the-Match, MS Dhoni said, "Yes I have spent a lot of time here. I love the people out here. Fantastic crowd. Good to see people come for Test matches in India. It was important to play some shots. If you have those extra catching fielders, you might make one mistake and end your innings. I had to play a few shots to try and spread the field."
Dhoni added, "The first partnership was important. Sachin and Pujara batted for a period of time. Virat and Sachin was crucial. It tired the bowlers a bit. Those partnerships were crucial. Ashwin bowled brilliantly. In the second innings, he was well supported by Bhajji. Ashwin stuck with his offspinners, which was good. He was willing to bowl in one area, and that's a big positive. It's important to be focussed now, but at the same time it is important that the bowlers take some time off now. Never dreamt I would get a double in Tests. I had never even dreamt of playing for the country. Let's just keep it simple."
Scoreboard
Australia — 1st innings: 380.
India — 1st innings: M. Vijay b Pattinson 10 (15b, 2×4), V. Sehwag b Pattinson 2 (11b); C. Pujara b Pattinson 44 (74b, 6×4), S. Tendulkar b Lyon 81 (159b, 7×4), V. Kohli c Starc b Lyon 107 (206b, 15×4, 1×6), M. Dhoni c Wade b Pattinson 224 (265b, 24×4, 6×6), R. Jadeja b Pattinson 16 (45b, 3×4), R. Ashwin b Lyon 3 (6b), Harbhajan b Henriques 11 (31b, 1×6), Bhuvneshwar c Clarke b Siddle 38 (97b, 4×4), I. Sharma (not out) 4 (18b); Extras (b-14, lb-14, w-4): 32; Total (in 154.3 overs): 572.
Fall of wickets: 1-11 (Vijay), 2-12 (Sehwag), 3-105 (Pujara), 4-196 (Tendulkar), 5-324 (Kohli), 6-365 (Jadeja), 7-372 (Ashwin), 8-406 (Harbhajan), 9-546 (Dhoni).
Australia bowling: Starc 25-3-75-0, Pattinson 30-6-96-5, Siddle 24.3-5-66-1, Lyon 47-1-215-3, Henriques 17-4-48-1, Clarke 8-2-25-0, Warner 3-0-19-0.
Australia — 2nd innings: Ed. Cowan lbw b Ashwin 32 (97b, 3×4), S. Watson c Sehwag b Ashwin 17 (46b, 1×4, 1×6), D. Warner lbw b Harbhajan 23 (61b, 2×4), P. Hughes c Sehwag b Jadeja 0 (3b), M. Clarke lbw b Ashwin 31 (51b, 4×4, 1×6), M. Wade b Harbhajan 8 (22b, 1×4), M. Henriques (batting) 75 (124b, 6×4, 2×6), P. Siddle b Jadeja 2 (20b), J. Pattinson c Sehwag b Ashwin 11 (26b, 1×4), M. Starc c Tendulkar b Ashwin 8 (7b, 2×4), N. Lyon (batting) 8 (47b, 1×4); Extras (b-15, lb-2): 17; Total (for nine wkts. in 84 overs): 232.
Fall of wickets: 1-34 (Watson), 2-64 (Cowan), 3-65 (Hughes), 4-101 (Warner), 5-121 (Wade), 6-131 (Clarke), 7-137 (Siddle), 8-161 (Pattinson), 9-175 (Starc).
India bowling: Ashwin 28-4-90-5, Harbhajan 27-6-55-2, Jadeja 26-5-68-2, Ishant 3-1-2-0.
Here come pictures of India-Australia 1st Test Match 2013