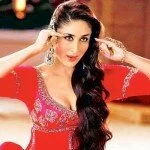 Latest news state that the Chhattisgarh government accepted on Thursday that the state government had paid Rs 1.40 crore to Bollywood actress Kareena Kapoor for her dance performance in November at the state's anniversary function.
In a written reply Congress member Mohammed Akbar in the state assembly, Public Works Department (PWD) Minister Brijmohan Agrawal, who holds the tourism and culture positions also, said, "245 artistes performed during the weeklong (November 1-7) state foundation anniversary – Rajayotasava 2012- celebrations held in various districts and the government paid over Rs 5 crore to them."
Further, the minister said that the total cost spent as honorarium to 245 artistes, that also has 42 artistes from outside the state, during Rajayotasava 2012 was Rs 5,21,22,500.
The minister also listed the name and complete details of every person paid by state government, with Kareena Kapoor topping the list at Rs 1,40,71,000.
It is said that actress Kareena Kapoor performed at main Rajayotasava venue at Naya Raipur on November 1 and her show was hardly for eight minutes.
Moreover, the state government also paid high amount of money to artists which includes Sonu Nigam (Rs 36,50,000), Sunidhi Chauhan (Rs 32,00,000), Dia Mirza (Rs 25,00,000), Himesh Reshamia (Rs 24,00,000) and Pankaj Udhas (Rs 90,000).
Mohammed Akbar also told the house that his department spent Rs 54,62,461 on inviting the artistes and their travel expenditure while the bill for artistes' lodging and food was put at Rs 11,67,956.