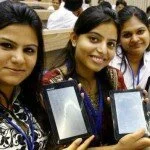 As per the latest Technology news, the manufacturer of world's cheapest tablet Aakash, Datawind has recently announced that the company has issued a legal notice to Indian Cellular Association (ICA) for 'defaming' the UK-based company, also releasing statements harming commercial interests of Datawind.
While talking to media, Datawind CEO Suneet Singh Tuli said, "We have sent a legal notice to them for spreading false reports against us in the media and in government meetings including places such as the department of IT."
However, during the first press conference after the release of Aakash tablet, Company CEO Suneet Singh Tuli said, "It's some local tablet makers (and members of the Indian Cellular Association) who lost the Aakash-I tender to Datawind who are spreading defamatory statements."
On the other hand, the President of Indian Cellular Association, Pankaj Mohindroo has told media that they have received a legal notice from Datawind. He said, "The legal notice is baseless. As an association we get invited to consult government on various issues. It's our duty to advice the government what is in best interests of the country and its visionary Aakash project."
Mr. Mohindroo said, "There are about 40 tablet makers in the market today. Only 7-8 of them are our members."
Meanwhile, in 2011, ICA had submitted a written notice to ministry of HRD saying that big companies like Samsung and Nokia are better positioned to take care of all such projects. And, Datawind's legal notice to ICA's President Mr. Mohindroo comes just days after its own supplier Quad sent Datawind a legal notice on non-payment of dues.
On a meeting held on Friday, CEO Mr. Tuli said, "I would share with the media details of wire-transfer payments to Quad. Datawind has called another conference next week, to announce the launch of Ubislate-II as its new supplier ecosystem."
In addition, an official note from Quad states, "Datawind paid it for only 1500 tablets, whereas the contract was for 50,000 tablets, for which the company bought the inventory." The company further reveals that the onus lies on Datawind to honour their letter of credit, as 'ultimately it is the paying party'.
The CEO of Datawind, Mr. Tuli also accused IIT-Rajasthan of back assault it by inking an MoU with its supplier Quad. Mr. Tuli said, "IIT-Rajasthan created a limited tender, engaged our suppliers and circumvented Datawind."
In an official note, Datawind said, "They will come up with a new test criterion. We plan to supply Aakash-II in May, once IIT-Bombay approves tested devices."