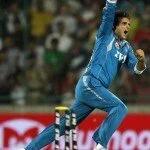 It was Sourav Ganguly's day in the Indian Premier League match yesterday. Dada performed with bat and bowl, and his twice strike in both the innings led 20-runs win over Delhi Daredevils.
Earlier, Delhi Daredevils skipper Virender Sehwag won the toss and elected to bowl first. Batting first, Pune off to a good start though loosing opener Uthapa on 26 runs in the 3.5 overs. Skipper Sourav Ganguly looked in good touch and he hits shorts allover the ground along with New Zealand cricketer Jesse Ryder.
Ryder and Ganguly added 93 off 63 balls for Pune Warriors India. Pune scored 192 runs from their limited 20-overs of play.
Came to batting, Delhi started their innings slowly, loosing Jayawardene cheaply. Then skipper Sehwag and Pietersen gave some speed to their team's score but Pietersen fell on the very first ball bowled by Sourav Ganguly. Ganguly took two important wickets in the IPL 5 match yesterday. He took important wicket of Pietersen and then Irfan Pathan.
The Delhi team managed to score only 172 runs in their 20-overs of play. Talking to media, Delhi skipper Virender Sehwag said, "Nothing went in our favour today. Our bowling and batting changes didn't work. I changed the batting order because of the pressure of chasing 190, but we lost two crucial wickets (Pietersen and Pathan) in quick succession."
He said, "Big players don't guarantee you win. Chasing 190 there is always pressure on the batsmen because you need to hit every ball."
Further, Sehwag said, "Me and Naman were not giving good starts, so I just thought of promoting Mahela as he has done remarkably well in the recent past opening he batting for Sri Lanka."
Scoreboard: Pune Warriors: R. Uthappa c N. Ojha b M. Morkel 10 (13b, 2×4), J. Ryder b M. Morkel 86 (58b, 7×4, 4×6), S. Ganguly c Yadav b M. Morkel 41 (35b, 5×4, 1×6), S. Smith (not out) 34 (13b, 4×4, 2×6), A. Mathews (not out) 6 (2b, 1×4); Extras (lb-4, w-10, nb-1): 15; Total (for three wkts. in 20 overs): 192.
Fall of wickets: 1-26 (Uthappa), 2-119 (Ganguly), 3-186 (Ryder).
Delhi Daredevils bowling: Irfan 4-1-25-0, Nadeem 4-0-44-0, M. Morkel 4-0-50-3, Umesh 4-0-29-0, Pietersen 2-0-21-0, Sehwag 1-0-9-0, Nagar 1-0-10-0.
Delhi Daredevils: M. Jayawardene c Smith b Thomas 7 (7b, 1×4), V. Sehwag c & b Kartik 57 (32b, 5×4, 4×6), K. Pietersen b Ganguly 32 (23b, 1×4, 3×6), Irfan c Ryder b Ganguly 15 (11b, 1×6), P. Negi (run out) 8 (8b, 1×4), R. Taylor c Smith b Thomas 12 (13b, 1×4), Y. Nagar c Ganguly b Thomas 24 (19b, 3×4), N. Ojha (not out) 11 (6b, 1×6), M. Morkel (not out) 1 (1b); Extras (lb-2, w-3): 5; Total (for seven wkts. in 20 overs): 172.
Fall of wickets: 1-12 (Jayawardene), 2-87 (Pietersen), 3-114 (Irfan), 4-115 (Sehwag), 5-125 (Negi), 6-143 (Taylor), 7-167 (Nagar).
Pune Warriors bowling: Thomas 4-0-22-3, Nehra 4-0-26-0, Kartik 3-0-25-1, Mathews 2-0-32-0, Rahul 2-0-20-0, Ryder 1-0-18-0, Ganguly 4-0-27-2.
Man-of-the-match: S. Ganguly.