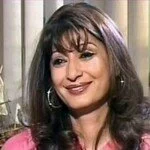 In her first reaction to media over the comments made by the Gujarat Chief Minister Narendra Modi, Sunanda Pushkar, wife of Minister of State for Human Resources Development (HRD) Shashi Tharoor, has hit hard at the Narendra Modi.
Few days back Narendra Modi called her as an 'Rs 50 crore girlfriend'.
Talking to a private news channel, Sunanda Pushkar hits at Modi and termed his jibe as 'utterly disgusting' and said that she was "extremely disappointed" at Modi's remarks and surprised, "how can someone stoop to something like that".
During his Election campaign rally in Himachal Pradesh, Modi made a comment and called Sunanda Pushkar as an 'Rs 50 crore girlfriend'.
In her interviews, Sunanda Pushkar said, "We did not expect this from the Gujarat Chief Minister. Shashi was taken aback, I had asked him to ignore the comment."
Further, she said that she did not expect an apology from Modi. She said, "No I don't expect an apology…didn't expect from a CM. Nobody should stoop so low. Lot of people got hurt, my young son was hurt…Modi has a track record of disrespecting women."
Talking about her IPL Kochi team issues, she added, "we have completely sorted it out, answered all questions of the ED (Enforcement Directorate)". "Where is the Rs 50 crore?"
She said, "I was highly amused by the figure … Earlier, the figure was Rs 70 crore, so where has Rs 20 crore gone?"
"The BJP needs to figure it out … it is an imaginary figure," she said, adding: "Show me the money."
BJP spokesperson Mukhtar Abbas Naqvi also termed her husband Shashi Tharoor as 'Love Guru', Sunanda Pushkar said, "The BJP had nothing else to attack … If they were real men, they would attack on proper issues … They attack everybody without proof."
She said, "This guy (Modi) wants to win the elections."