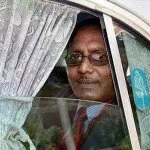 Hitting a  twist in 2G scam,  the author of the 2G CAG's report that estimated presumptive loss of Rs. 1.76 lakh crore, has came in front of media and said that it is not his report as his report not contain with any loss , he was just told to sign on it.
"After completing the audit of ministry of telecom, which was under my direct charge, I prepared a draft audit report covering each and every aspect … My report did not contain any loss figure," former director general of Comptroller and Auditor General, RP Singh said.
He also claimed that there were Rs. 37,000 crore recovering from those holding excess spectrum which he had mentioned in his report. There are just two types of less recovery figures in CAG report, as per R.P. Singh, who told media that the estimated loss figure mentioned in the report  had been recovered in the final report, despite deleted by him in the report.
He further added, Rs. 1,658 crore that get after charging for pan-India licence along with spectrum were also mentioned in his report. He said the audit was done without guidelines for which he disagreed with CAG headquarters and told them to sign off on report.
The audit was influenced by PAC Chairman Murli Manohar Joshi, chairman of Parliament's Public Accounts Committee (PAC) to whom CAG officials met on a holiday to help him on the 2G spectrum Panel's report which was rejected by Lok Sabha Speaker Meira Kumar because of report was without signatures.
Meanwhile, the controversial issue is turned into a different direction  as ans when govt is ready to launch second round of spectrum auction to garner only Rs. 9,407 crore.