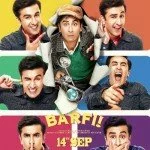 The much awaited film of the year, starrer Ranbir Kapoor and actress Priyanka Chopra, rom-com Barfi has received superb response from the viewers. The film will be casting Ileana D'Cruz for the first time in Bollywood.
Meanwhile, the production house of the film had now released it's first title track, Ala Barfi!
The newly launched title track shows Ranbir Kapoor in a very naughty way, but looking cute. And the most interesting factor is that Ranbir Kapoor's character doesn't have a single dialogue in the film.
The strong performance of actor Ranbir Kapoor and Priyanka Chopra will be tested by the audiences when the film will release allover.
If talked about the character of Ranbir in the film, he plays a deaf and dumb character, Ileana D'Cruz plays a role of a translator whose role spans about 50 years and actress Priyanka Chopra plays the role of an autistic girl.
The film is set to release allover on September 14, 2012.