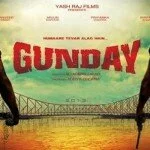 The poster of Yash Raj's crime film is out in media now, and it is reported that the stars has started their shooting in Mumbai.
The much awaited film 'Gunday' featuring Arjun Kapoor and Ranveer Singh is finally out. The teaser poster shows Arjun and Ranveer, dressed as two small-time thieves Bikram and Bala, looking at the sunrise across Howrah bridge.
However, the face of the actor are not very clear in the poster, but Arjun sports a bandana as Bikram, Ranveer as Bala has facial fuzz a la Ram Leel.
Actress Priyanka Chopra will be playing the lead role in the film. The film is set is Kolkata and it is a mafia issue face film of later 70s.
The star cast in the film 'Gunday' includes Ranveer Singh, Arjun Kapoor, Priyanka Chopra and Irrfan Khan.
'Gunday' film will be directed by Ali Abbas Zafar, who had directed the Imran Khan-Katrina Kaif hit Mere Brother Ki Dulhan.
The film is scheduled for a late 2013 release.