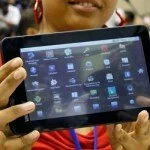 The congress-led UPA government today said in Lok Sabha that the recently launched Aakash 2 tablet is for the testing and empowerment of teachers and there is not proposal to provide these tablets to students.
In a written reply in the Lok Sabha on Wednesday, Union Human Resource Development Minister, MM Pallam Raju said, "Presently there is no proposal in this regard… In the first phase one lakh tablets are for the purpose of testing and teacher empowerment. They would not be distributed to students in the first phase."
When asked to MM Pallam Raju that if central government is planning to provide Aakash 2 tablet free of cost to students, mainly in rural and poor region students belonging to the weaker sections of the society.
He said that the newly developed Aakash 2 tablets were launched by President Pranab Mukherjee during the National Education Day on November 11, 2012.
He added, "The salient features of Aakash-2 tablet includes seven inch multi-touch capacitive projective display with at least 800×480 resolution. It runs on Android 4.0 (ice-cream sandwich) operating system, powered by 1GHz processor and HD video playback support."
Meanwhile, the new Aakash 2 tablet has Wi-Fi for Internet connectivity with 4 GB internal memory and a microSD card slot which can be extended upto 32 GB.