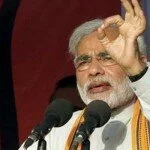 The Delhi Chief Minster Sheila Dikshit on Tuesday said that BJP party is trying to mislead people by saying Gujarat Chief Minister Narendra Modi as next Prime Minister.
The Delhi chief minister was talking to media after launching party's manifesto on Tuesday, she said, "He (Modi) knows people aren't going to vote for him, if he seeks vote as chief minister. If it is shown that he is going to become prime minister, then people may vote for him. This is nothing but an attempt to mislead people."
Further, Sheila Dikshit targets Modi for misrule Gujarat people and said that people are not speaking against hime due to fear.
Sheila Dikshit said, "BJP has been in power in Gujarat for 17 years now, but situation has only worsened. What sort of development are they talking about when government employees are not being paid rightfully? How can such a government call itself a progressive government."
Sheila Dikshit had spent more time as Chief Minister of Delhi than Modi as Gujarat Chief Minister. She said, "Our government in Delhi is completing 14 years this month, but we haven't felt the need to trumpet our achievements or resort to dramatics, which has been happening in Gujarat."
She added that Gujarat reveals poor in human development index. The Delhi Chief Minister also questioned people's silence over the misrule.