In Maha Kumbh auspicious day on Sunday, a deadly stampede killed atleast 36 people and scores of others injured at Allahabad railway station, the railways said today.

The tragedy happened at last Sunday night and as per authorities reports the death toll could be rise.
However, reports are that 20 bodies have been identified said to be of women, while remain are in process.
CMO Allahabad Dr Prabhakar told media that 14 more people died during treatment.
All the bodies are rushed to the Medical College Mortuary in Allahabad, while injured are being treated at the railway hospitals and the SRN Hospital, he added.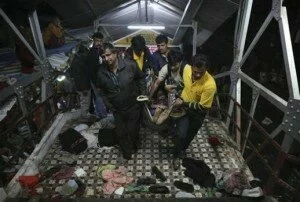 Stampede at Allahabad occurred near platform no 6, where a foot bridge reportedly collapsed when more than lakhs of devotee rushed to board a train who returning after a holy dip at Kumbh on the Sangam for the Mauni Amavasya Snan.
The situation was out of control when all pilgrims topple over each other to save their life.
There was a police lathicharge that raised the panic, but police confirmed that it was for regulate the movement of the crowd control the movement.
Expressing the heartfelt condolences over Allahabad Stampede, sources said that PM Manmohan Singh wished for injured recovery and also promised to assist the victims' families. Moreover, Uttar Pradesh Government also announced to assist Rs. 5 lakh each to kin of those killed, and Rs. 1 lakh each to the seriously injured.