Mark a historical planetary exploration, NASA's Mars Curiosity rover has become the first spacecraft after it's on board drill deep enough into a Martian rock to collect stone powder samples for analysis.
From a 0.63 inch wide and 2.5 inches deep fresh hole, the fine grey material will be used for further inspection by Curiosity with usage of its laboratory equipment, sought for evidence for long-gone wet environments which may hint life on Mars, reports said.
It has been said that after inspection, the samples of fine-grained sedimentary bedrock will be delivered to the robot's laboratory.
This is an immense achievement for the Curiosity team as first time any robot has drilled into a rock to collect a sample on Mars, the US space agency said, source said.
The landing of sky-crane was made in the Gale Crater of Red planet in August 2012, for a two year long mission to find whether life exists on the red planet.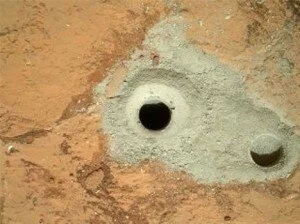 Despite still wait if of samples' testing by the rover's Chemistry and Mineralogy (CheMin) and the Sample Analysis at Mars (SAM) instrument, NASA said that it had started environmental testing for another Martian mission, Maven (Mars Atmosphere and Volatile EvolutioN), as per reports.
The testing of Rock powder generated during drilling will be processed by the rover's arm with a series of steps in the next coming days, delivering the powder out of the drill into the scoop and will use to scour traces of material.