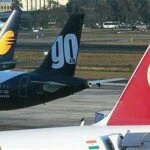 According to latest business news, the aviation industry has announced that from now onwards, foreign airlines can have 49% share in the Indian domestic carriers. The step by the aviation industry was taken as to boost the fund of the aviation sector.
Meanwhile, the Cabinet Committee on Economic Affairs has sanctioned the application which would pave way for equity infusion into the country's airlines that are going through as most of the carriers are running short of funds.
Talking to media, the Civil Aviation Minister Ajit Singh said, "Though FDI of upto 49 per cent, 75 per cent and 100 per cent was there in aviation sector, foreign airlines were not allowed."
However, the present FDI norms offers foreign investors, but not in airline business, to directly or indirectly buy any equity share of upto 49% in Indian carrier.
Which ultimately permits foreign airlines to grab shares in Indian carriers has been a long-pending demand of the aviation sector.
Reports have said that most of the Indian carriers are facing losses mainly due to high taxes and increased fuel prices, which rising airport fees and costlier loans.
However, only the IndiGo airline shows profit this year, all the other have posted losses in the fiscal year ended March 31.