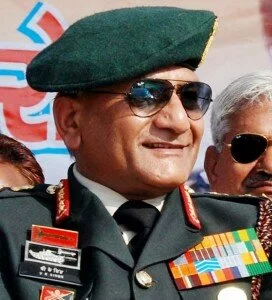 The army chief General VK Singh's age row petition will hear by the Supreme Court today and the court will hear the over all matter from both sides.
The major steps has been taken to solve the age row issue and the finance minister Pranab Mukherjee also met with General in a day before hearing for reaching on any stage of ending the issue, but in his half an hour meeting at Mukherjee's South Block office late in the evening, Pranab was not asked for compromising, only asked for updates of issue and know the date of hearing on apex's court.
General's major step to come the govt. into the Supreme Court is came out after the defence ministry in December rejected his statutory complaint, requesting a change of his year of birth in official records to 1951 from 1950.
Dragging the govt. in Supreme Court as a plea filed by the General, is the issue that create big controversy with lack of maturity.
The controversy became a fact of fire in the Army while two sets of records in the the Adjutant General's and Military Secretary's branches of the Indian Army had not matched. One show General's DOB as1951 and is not due to retire until March 2013 and other side defence ministry show it as 1950 and he is due to retire in May this year.
Today on the hearing of General's plea by a Supreme Court bench headed by justice RM Lodha will decide all the matter and what ever decision it take, both party will have to accepted.