The Bollywood actor Irrfan Khan, who has proved his skills in Bollywood as well as Hollywood, has recently said that he does not want to be tagged as a star or get bracketed in a particular slot.
Talking to reporters, the actor said, "I don't apply any tags to myself. I don't like it. I challenge tags. I don't want to get tied to any tag. I am an actor. I just want people to see my films. Whether I am an entertainer, performer, actor or star I don't care as long as audience loves my work."
Irrfan said that he do not want to belong to any group in the industry.
He said, "I think somewhere the industry also sees you as a product, they want to use you as a product and you keep fighting against it. You keep trying to do something new. I feel you should never allow yourself to get into any slot."
Nowadays, Rs 100 crore has become the trend of the Indian film industry, but Irrfan feels that such thoughts are 'ridiculous' and that it harms the purpose of story telling.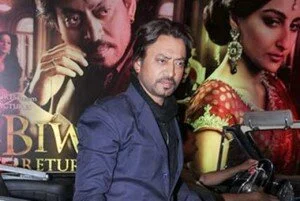 Irrfan said, "The tag of Rs 100 crore is ridiculous and it will not do well for the film industry. I think film-making is a combination of creativity and money. So you cannot just reduce the power of the story with the tag of money. It cannot be valued just by tag of money. It is not a share market."
"If a film of Rs 100 crore earns Rs 200 crore its good, if a film of Rs 10 crore earns Rs 25-40 crore it is also good. If a film recovers the money and leaves something for the audience to remember then it is very good. I think this is something that should be encouraged. This tag of Rs 100 crore might harm to story telling," he added.
He said, "If someday my films earn Rs 100 crore I will still reject this tag. As according to me the films that I do or will do should be recognized by its story. If it is just by the money it has made I think it is disrespect to the story telle."
The actor is now working on Tigmanshu Dhulia's 'Saheb Biwi Aur Gangster Returns' , 'Bullet Raja', 'Yash Raj Films' 'Gunday' and Nikhil Advani's 'D Day'.