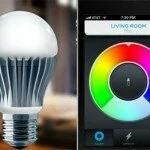 Now it's easy to change colour, strobes, and switches of your entire house as per your mood automatically by using The World's smartest energy efficient light bulb , LIFX which is fully controlled by a mobile phone with iOS or Android app.
This innovative modern development has made by an Australian entrepreneur, offering world a 42 pounds light bulb with a life of 25 years and promising to consume 20% less power than the normal bulbs.
LIFX Smartbulbs is a completely users friendly, automatic turn off and on with changing coloring in different multiple shades which experience users as like a disco in kitchen.
Now we can say, it's easy to make a romantic evening with your loved one in home with LIFX Smartbulbs.
The cost energy efficient smart technology based Light bulb will cost $69 each and if users want to buy a pair, then $119 and for 2 pair it will cost $196.