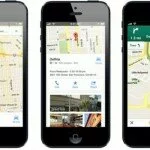 The world's best online mapping system Google Maps have made its comeback to the iPhone platform as launching the Google Maps for iPhone App.
Best offer for Apple users and critics has come nearly three months after Apple replaced Google Maps by its own map software into the latest version of its iOS.
Just within few hours of Google Maps' iPhone App launch, it ranked top free app in Apple's iTunes store, most appreciated by users with a five-star rating, source said.
In battlefield of digital mapping, Google's iOS Maps app comes with a major improvement. Without inclusion of ads, Google's mapping app for the iPhone will based on the stream of marketing flowing via Android App.
Moreover, users can get public transit directions turn-by-turn directions by a free Google iPhone app. Unlike Apple's limitation of misplacing overlooked towns, Google iPhone App will offer street-level photography of local neighborhoods with three-dimensional views.
Beside it, still some features of Android phone app are missing in the iPhone app.
It has been said that Google's free mapping will become one of the best and highest demanded app in Apple's app store as Apple users fed up with Apple's alternative.
While asking about the competition with Apple Map, Google Maps' mobile director, Graf said to reporters, "On maps, we have a friendly relationship," added that Google isn't hoping to make Apple look bad with its new mapping app.