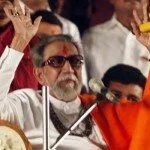 Shiv Sena chief Bal Thackeray Saturday claimed that if he was given charge of the Indian Army, he would solve all problems and set things right in the country within a month.
In the second of his four-part interview published in party mouthpiece 'Dopaharka Saamna' Saturday, Thackeray also warned that he would not "spare" Muslim fundamentalists who fomented trouble in the country.
"Give me control of the army. I will show you miracles and set everything right within a month. Just hand over the army to me," Thackeray, known as 'Sena-pati' claimed.
When he was told that his party, Shiv Sena, was an 'army', Thackeray rued the fact that it was "unarmed". He claimed his army had only saffron flags. "Yet, we have so much influence, but I don't want only that, hoardings, banners and drums," the 86-year-old leader said.
Thackeray claimed that the violence at Azad Maidan of Aug 11, when Muslim groups were protesting the alleged attacks on Muslims in Myanmar and the riots in Assam, was "pre-planned," just like many other such incidents in the past.
"After Babri Mosque demolition (of December 6, 1992), they (Muslims) started riots in Mumbai. Even during the Godhra carnage, they locked up three bogies of Sabarmati Express and burnt people, women and children, alive. Similarly, the Mumbai violence (of August 2012) was pre-planned," Thackeray asserted.
He said that the incident was roundly condemned by the Shiv Sena and his nephew Raj Thackeray's Maharashtra Navnirman Sena, but asked, "where were the people who paralysed Parliament," (referring to the Sena's ally Bharatiya Janata Party).
However, Thackeray warned that he would not "spare" the perpetrators of violence and fanatic Muslims from Pakistan or Bangladesh who are creating trouble in the country, at least in Maharashtra.
"When I come into my element ("josh"), I will not allow a single fanatic Muslim to live in Maharashtra, and wherever we have party branches, right up to Jammu & Kashmir," Thackeray roared through the pages of the party mouthpiece.
He repeated his party's old stance of not permitting Pakistani cricketers to play in India. "I have never changed my stand (on this) and will never deviate from it," he declared.
Turning attention to Bihar, the Sena chief wondered why (Bihar) Chief Minister Nitish Kumar should get angry over the Maharashtra Police action of nabbing a criminal from that state.
"In our country, laws are made for whom, the people or dangerous terrorists? He should first think of how such terrorists could create trouble instead of raising a hue and cry over Maharashtra Police action," Thackeray advised.
Indicating that his son Uddhav and nephew Raj were coming together, Thackeray said that the media ("pimps and agents") find problems even with this.
"Now that the two cousins are getting closer, they (media) have started devising ways to again separate them, sow differences between them and again make them fight," Thackeray claimed. (IANS)