BJP allies Vishwa Hindu Parishad who has recently revive Ram Temple issue, has added one more when Maharashtra police registered an FIR against its leader Praveen Togadia for allegedly making provocative speeches.
Following the complaints of All India United Democratic Front member Imran Ali against Togadia, Police in Nanded district in Maharashtra on Thursday registered an FIR .
A demand of investigating has been raised by the Centre to Prithviraj Chavan-led Maharashtra government asking to arrest the Hindu outfit leader if found to be violating laws, as per earlier reports.
It has been said that the state Minorities Affairs Minister Naseem Khan said, "I have requested the state government to register case against Togadia. If (Akbaruddin) Owaisi is behind bars for his hate speech, why not Togadia?"
Sources said, Togadia controversy regarding hate speech came in air when a video-recording was posted online in which Togadia had allegedly attacked Majlis-e-Ittehadul Muslimeen (MIM) MLA Akbaruddin Owaisi who was sent to jail on charges of delivering a hate speech in Adilabad district of Andhra Pradesh last month.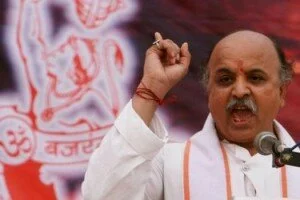 Congress leader Digvijaya Singh also demanded to book Togadia as no religious leader should be allowed to play with communal accord.
Moreover, assuring the Centre over Togadia row, Maharashtra government confirmed to take due legal process against him if Togadia's speech was inflammatory.