After the successful ODI and Twenty20 Series against England and Pakistan, team India managed to retain their third spot among T20 rating, however, Virat Kohli is now placed at the 6th rank in the ICC rankings for Twenty20.
As per the figures released by the ICC rankings for Twenty20, India scored 119 points in the list and placed at the third place, Sri Lanka tops the list and then comes West Indies.
ICC rankings for Twenty20 lists reveals that Sri Lanka has 131 rating points and ICC World Twenty20 winners West Indies has 9 points less to Sri Lanka.
Still, Indian batsman has garbed their places in the top 20 list.
Middle-order batsman Yuvraj Singh is placed at 13th position and opener Gautam Gambhir at the 17 position.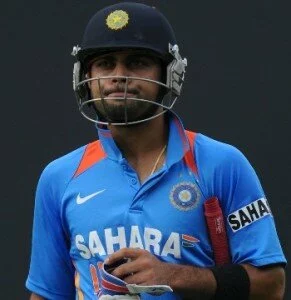 New Zealand wicketkeeper Brendon McCullum leads the T20 batting chart with 794 points, followed by destructive West Indian opener Chris Gayle (792), Sri Lanka's Mahela Jayawardene (768) and Australia's Shane Watson (767).
Meanwhile, under bowlers list, Indian off-spinner R Ashwin ranked 16th in the list and is the only Indian bowler in the top-20.
Pakistan's Saeed Ajmal is still leading the bowlers' table with 756 points followed by Ajantha Mendis of Sri Lanka (731) and England's Graeme Swann (720).