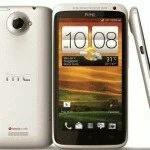 HTC samrtphones, a highly youth demanded model now came in India as HTC Company unveiled its HTC One series Smartphone on Monday.
The Company known for its design and body features launched One X with installation of Nvidia chipset along with a strong polycarbonate body.
A 4.7 inch One X is light in weight, high pixel resolution powered by a quad-ore processor and available in Indian Market Stores at cost of Rs. 37,899.
HTC India country manager Faisal Siddiqui said that due to having heavy demand, this X model would be available only in select 4G markets with an LTE enabled Qualcomm processor.
Another one is HTC One V that sold out in days with a market operating price of Rs 18,299. However HTC One series's smartphones feature high quality viewing, sparkling look and high range of connectivity.
With storage of more than 10,000 high-quality pictures, consumers facilitate a 25GB free Dropbox storage space for two years.
HTC, a firm hit 100% record in 2010, is plan to creaming the smartphones market high end users and by using pricing strategy it has ranged its model between Rs 43,000 and Rs 20,000.
This strategy would also use to capture existing users who are looking to upgrade their handset with some uplifts in software that directly make it sure a defeat of its big rival Apple's iPhone and be it in the top three makers of smartphone.