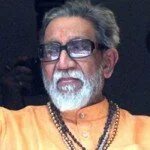 According to latest political news from Mumbai, the ailing Shiv Sena chief Bal Thackeray on Monday admitted that his health was 'not that good' but he added that he had not "completely collapsed", and the Shiv Sena chief denied reports that he was son ventilator.
Bal Thackeray said in a personalized message to Shiv Sena partymen in the party mouthpiece Saamna on Monday after reports hit in media that his health had weaken and he had been put on a ventilator. He said, "My health is not that good, but I have not completely collapsed. I am not on a ventilator."
Bal Thackeray is now 86-years-old and has been suffering from breathing problems and other age-related complaints.
He said, "I have nothing to hide on this issue. During the Dussehra rally last month, I took my party activists into confidence and made it clear publicly that my health was not too good."
Further, the Shiv Sena chief also admitted that a team of doctors are trying to improve his health condition. He said that he had not reached a state demanding requiring "artificial respiration" as the love and affection of his supporters was acting like "a breath of fresh air".
He said that his son Uddhav Thackeray, who is on the road to recovery from an angioplasty performed a few days ago, was looking after him round-the-clock as other family members.
Bal Thackeray said, "Even (nephew) Raj Thackeray keeps coming regularly. Yesterday (Sunday), former president Pratibha Patil had come. I also read the newspapers as usual, but I don't speak on the phone, that's all."
The Shiv Sena supermo conveyed his Diwali best wishes to the people of Maharashtra and his party activists.