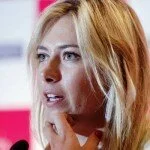 As per latest news from the world of sports, Women's tennis star Maria Sharapova on Sunday said Indian tennis icon Sania Mirza was a great singles talent but it was right for the Indians to aim on doubles because of the growing nature of the game.
Maria Sharapova is on her first visit to India, she said, "It takes so much both mentally and physically to play in two formats. It becomes difficult to give equal attention to singles and doubles."
Further, Sharapova talked about her experience with Sania Mirza on-court. Sania Mirza stopped playing singles due to her growing knee injuries.
Sharapova said, "It has been long since we played but she was a great talent. I am really happy that she is doing well in doubles. It is hard to continue with both formats. Sometimes you got to choose one."
She played against Sania Mirza two times including the 4th round at 2005 US Open.
On the other hand, Indian tennis player Sania Mirza is ranked 12th in doubles and 280th in singles.