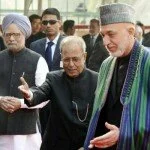 According to latest political news, the Afghanistan President Hamid Karzai met the Indian Prime Minister Manmohan Singh in New Delhi on Monday. Hamid Karzai also met the External Affairs Minister Salman Khurshid.
Reports have said that around four MOUs were signed between the two nations. The four agreements were in diverse areas, such as mines and fertilizers, youth affairs, small development projects and fertilizers.
India promised Afghanistan a $ 2 billion development and infrastructure support. India and Afghanistan planned to work together on an economic partnership agreement.
Talking to media, Afghanistan President Hamid Karzai said, "India has been a great supporter in Afghanistan's reconstruction effort. There are better investment opportunities in Afghanistan."
Manmohan Singh said, "We dicussed the political situation in Afghanistan. India supports the nation building of Afghanistan."
Further, Manmohan Singh and Hamid Karzai also talked about strategic partnership agreement, troops training, regional situation and relations with Pakistan.
In Mumbai on Sunday, the Afghanistan President Hamid Karzai promised business leaders a "red carpet" welcome for more Indian investment in their country as US-led NATO forces are set to leave the country.
India and Afghanistan signed a strategic partnership deal in the last year to better the friendly relations as well as increase trade, security and cultural links.