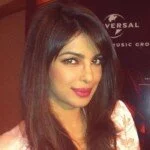 The Bollywood actress Priyanka Chopra is on a multi-city tour to promote her first music album Single In My City. The actress started her tour from national capital and Priyanka is set to be a pub crawler for the night as she will DJ in New Delhi.
The actress was quite satisfied with the crowd, she said, "I feel like a new comer and I just hope the response remains the same for my album."
Priyanka Chopra is happy after the success of her latest released film, Barfi, she said, "I have my saree and jewellery ready for the red carpet. Just need to think about the clutch and shoes for the big Oscar night if we get to the final nominations."
The actress is selected for the role of 'Mala' in the 'Zanjeer' remake, she is working with Yash Raj's Aungay and Ekta Kapoor's Milan Talkies.
Priyanka Chopra had just completed the shooting of Krrish 3 with Hrithik Roshan.
Priyanka said, "Hrithik is India's best superhero and I am his girlfriend what more can I say."
However, the actress is nervous about her live performance with Bollywood Dabangg Salman Khan in Dubai on December 2, and said that she hasn't approached for 'Sher Khan'.
Priyanka Chopra said, "I want time with my family since I have been living out of suitcases."