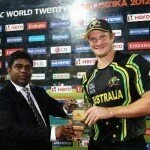 Australian opener David Warner and Shane Watson powered their team to a 9 wickets over India in the Super Eights match of ICC World Twenty20 played at R Premadasa Stadium, Colombo, Sri Lanka.
The Australian openers never looked under pressure and hits shorts allover the ground.
Earlier, Indian captain MS Dhoin won the toss and elected to bat first. But, none of Indian batsman looked comfortable at the centre. Irfan Pathan played some good cricketing shorts and made highest 31 runs for team India.
In form batsman, Gautam Gambhir, Virat Kohli, Rohit Sher, MS Dhoni and Rohit Sharma all fell cheaply. India made 140 runs in 20 overs.
Shane Watson was the pick of the bowlers, talking 3 wickets, Suresh Raina, Irfan Pathan and Yuvraj Singh, giving 34 runs in his 4 overs spell.
Batting second, Australia started very strongly. Shane Watson and David Warner both completed their fifties. David Warner made unbeated 63 runs from 41 balls hitting seven fours and three sixes.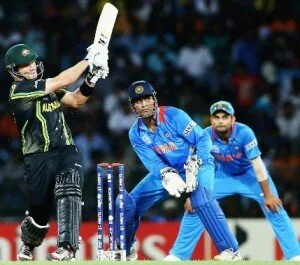 However, Man-of-the-Match, Shane Watson made superb 72 from 45 balls hitting two fours and seven huge sixes.
Scoreboard
India: G. Gambhir (run out) 17 (12b, 3×4), Irfan c White b Watson 31 (30b, 2×4, 1×6), V. Kohli c Christian b Cummins 15 (13b, 2×4), Yuvraj c Maxwell b Watson 8 (10b, 1×4), Rohit b Starc 1 (2b), S. Raina c Maxwell b Watson 26 (19b, 4×4), M.S. Dhoni c Bailey b Cummins 15 (21b, 2×4), R. Ashwin (not out) 16 (12b, 1×4, 1×6), Harbhajan (not out) 1 (1b); Extras (b-2, lb-2, w-6): 10; Total (for seven wkts. in 20 overs): 140.
Fall of wickets: 1-26 (Gambhir), 2-56 (Kohli), 3-70 (Yuvraj), 4-74 (Irfan), 5-74 (Rohit), 6-104 (Dhoni), 7-137 (Raina).
Australia bowling: Maxwell 2-0-11-0, Starc 4-0-27-1, Cummins 4-0-16-2, Watson 4-0-34-3, Christian 2-0-19-0, Hogg 4-0-29-0.
Australia: S. Watson c (sub) Tiwary b Yuvraj 72 (42b, 2×4, 7×6), D. Warner (not out) 63 (41b, 7×4, 3×6), G. Maxwell (not out) 4 (6b); Extras (w-2): 2; Total (for one wkt. in 14.5 overs): 141.
Fall of wicket: 1-133 (Watson).
India bowling: Ashwin 3.5-0-32-0, Zaheer 3-0-18-0, Harbhajan 2-0-20-0, Piyush 1-0-14-0, Irfan 1-0-19-0, Kohli 1-0-10-0, Yuvraj 2-0-16-1, Rohit 1-0-12-0.
Man-of-the-match: Shane Watson